Whether it's your first time on the trade show floor or you're a seasoned attendee, you can always pick up new tips to make the most of your time at an event. Below are four of our favorite bits of advice that will have you returning home from a trade show feeling refreshed, full of knowledge and ready to hit the ground running when you get back to the office.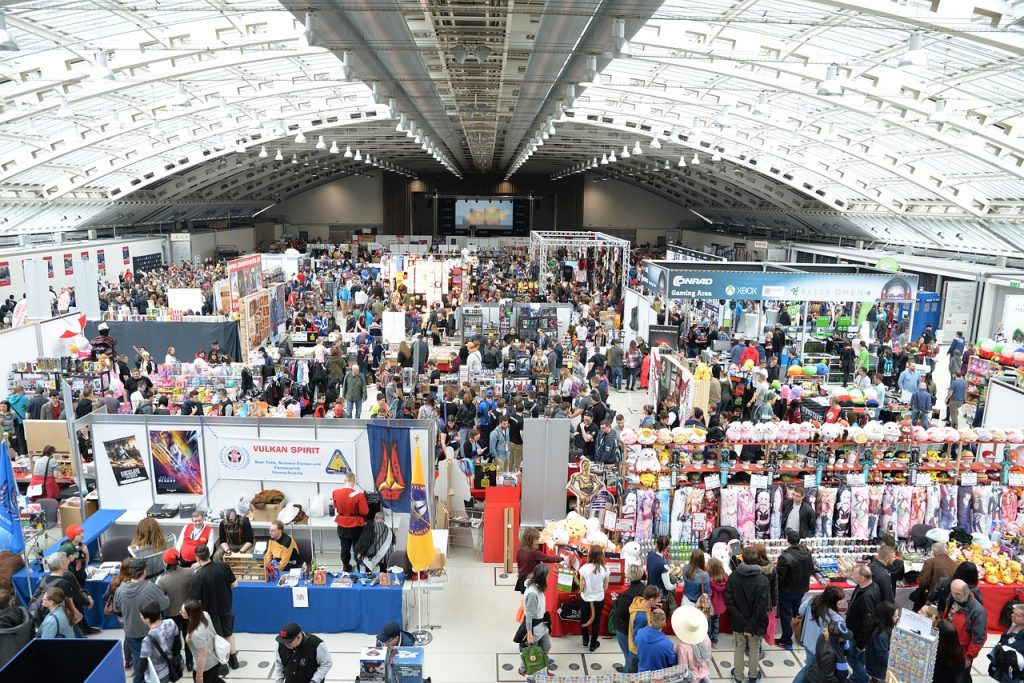 1. Preview the exhibitor list and come up with questions
Your trade show experience should begin weeks before you even step foot in the venue. If you decided to attend a trade show, you probably have some specific goals you want the trade show to help you accomplish. A few weeks before the event, take a look at the speaker schedule and make note of the sessions you want to attend. Next, preview the exhibitor list and decide which exhibitors you most want to visit. Then, come up with some questions for those exhibitors so you have a plan when you get to their booth.
2. Map out your route and plan your schedule
Based on your top exhibitors list, you can usually preview the floor plan and visualize an efficient route around the trade show floor so you don't miss any of your top exhibitors. If there's someone you really want to speak with, we also recommend trying to schedule some one-on-one time with them in advance. You'd be surprised how quickly time flies during these events, and it would be a shame if you didn't accomplish all you set out to. By scheduling your high-priority meetings in advance, you can be sure you'll have a chance to get answers to all your questions. Plus, it helps you structure your time and be more relaxed since you don't need to worry if you'll fit everything in. Between your meetings and educational sessions, you should be able to draft up a rough schedule for yourself, so you know where you want to be when.
3. Set a time limit
Most exhibitors have pitches prepared for anyone who stops by their booth. If you're not careful, you could accidentally spend too much time with some people that you don't make it to all the exhibitors you wanted. That's why we recommend meeting with all your top exhibitors first and then you can leisurely stroll the trade show floor to meet with any others that interest you. It also helps to have a time limit for each booth and let the exhibitor know about it up front. It's perfectly fine to say, "I'd love to learn more, but I only have five minutes." This will help the exhibitor cut down their pitch and quickly address your specific needs.
4. Take detailed notes
The amount of knowledge you can acquire in just a few days during a trade show is astounding. However, the amount of knowledge you can actually retain is much less impressive. You will be talking to so many people and attending so many educational sessions that, when you return home, it will all be a blur. Carry around a notebook (many trade shows give these away in the welcome bags, but it's a good idea to bring your own, just in case) and take notes about every conversation you have and every session you attend. You won't believe how often you may reference these notes in the coming months and even years. It will be far more useful than walking away with a stack of business cards from people you can't remember. These notes will also help when sending or responding to follow-up communications after the show.
We'd love to see you at an event soon! If you'll be attending any of the events below, feel free to contact us to schedule some time to talk:
South and North Dakota Fairs Joint Convention*
November 21 – 23 | Aberdeen, South Dakota

International Association of Fairs and Expositions
December 1 – 4 | San Antonio, Texas

Racing Promotion Monthly West Convention
December 4 – 7 | Reno, Nevada

Baseball Winter Meeting and Trade Show
December 8 -11, San Diego, California

Iowa Association of Fairs Annual Convention*
December 13 – 15 | Des Moines, Iowa

Ohio Fair Manager's Association Convention
January 3 – 5 | Columbus, Ohio

Indiana Association of Fairs Convention*
January 3 – 5 | Indianapolis, Indiana
Wisconsin Association of Fairs Convention*
January 5 – 8 | Wisconsin Dells, Wisconsin

Texas Association of Fairs and Expositions Convention
January 9 – 12 | Galveston, Texas

Michigan Association of Fairs and Expositions Convention
January 9 – 11 | Grand Rapids, Michigan

Minnesota Federation of County Fairs Convention
January 16 – 19 | Bloomington, Minnesota

Illinois Association of Agricultural Fairs Convention
January 17 – 19 | Springfield, Illinois

Nebraska Association of Fair Managers Convention
January 24 – 26 | Kearney, Nebraska

Missouri Association of Fairs and Festivals Convention
January 30 – February 2 | Columbia, Missouri

Racing Promotion Monthly East Convention
February 9 – 11 | Daytona Beach, Florida

*Spectrum will be presenting "Beyond Basic Rain Insurance: What You Need To Know"
What are your best trade show tips? We want to hear them in the comments below!