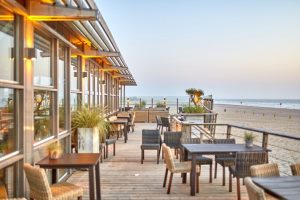 Is your business impacted by the weather? Can you estimate your revenue for the day based on the weather forecast? Then income stabilization insurance is for you.
Summer is just around the corner and, for some businesses, that means the busy season. Whether you run a beachfront shop, a water park or a restaurant most known for its patio seating on warm summer nights, a bad day of weather could mean a bad day for business. That's why many of these types of weather-dependent businesses purchase income stabilization insurance.
What is income stabilization insurance?
Income stabilization insurance is a policy that protects against the risk of lost sales or revenue due to weather. As you might guess, it's used to stabilize income for businesses that depend on certain weather conditions to drive sales during peak season. We offer insurance policies that address the risk of rain, excessive heat or cold, and even drought or wind. For winter, we also offer policies that address the risk of too little or too much snow for businesses, such as snow removal contractors, that rely on favorable winter weather.
The great thing about income stabilization insurance is its customizability. For example, for restaurants that rely on most of their sales coming in on Friday and Saturday nights, we can write a policy that only covers these busy nights. If it storms a few of these weekend nights, the restaurant risks not meeting its predicted sales. The same goes for restaurants that rely on a peak in sales due to extra patio seating during the summer. If they experience an unusually cold or rainy summer, sales could plummet. That's where income stabilization insurance would make up the difference.
We can also insure for specific dates. For example, we often write policies for racing facilities that only include race days. Additionally, some businesses rely on peak sales during holidays, so we can insure for those specific dates as well.
Who needs income stabilization insurance?
Amusement parks
Mini golf/putt-putt courses
Golf courses
Outdoor go-kart tracks
Water parks
Zoos
Rafting, boating and water sport rental and tour companies
Drive-in movie theaters
Outdoor race tracks
Beach and waterfront shops
Patio restaurants/restaurants and bars with outdoor seating
Outdoor sports complexes/stadiums
Winter tour and snow sport rental companies
Any business affected by the weather!
How else can you stabilize your income despite weather?
Another option we offer that many of our retail customers take advantage of is our promotion insurance. To improve foot traffic and sales, retailers can run a weather promotion, where they offer steep discounts if the weather meets a certain criterion on a specific day. Popular summer weather promotions include the heat index on summer holidays, such as Independence Day or Labor Day (i.e. If it reaches 100 degrees on Labor Day, all jewelry purchased during the month of August is eligible for a 50 percent refund). These types of promotions increase sales and, with promotion insurance, the retailer is protected from having to pay out the refunds. Click here to learn more about weather promotion insurance.
For more information on income stabilization insurance, click here or contact us for a custom quote.