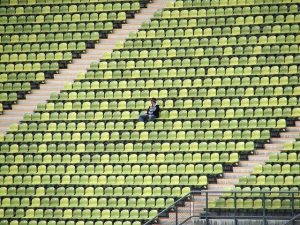 The summer of 2020 has all but come and gone, and it has looked nothing like what anyone imagined. From graduations and weddings to fairs and concerts, widespread event cancellations across the globe have made for a very uneventful summer.
For the general public, this has meant a boring summer, canceled traditions and disappointed fans. But for those in the events industry, it has been a devastating blow with months of hard work out the window, revenues lost and an uncertain future. We've been in touch with our event industry clients since COVID-19 was declared a pandemic back in March. And we've listened to them go from hopeful to hopeless as multiple postponements eventually led to cancellations. This has been an unprecedentedly rough event season with a lot of unknowns. We know the blood sweat and tears that event organizers put into their events and our thoughts are with them during this incredibly difficult time.
If you're trying to navigate the rocky terrain of planning an event during a global pandemic, we are here to help. Whether you just need to vent through your frustrations or want help with a game plan for next year, we're standing by. Feel free to reach out to us anytime to talk through your options, discuss the precautions you can take and plan out your postponement, cancellation and refund strategies.
We've also compiled some resources below that may help with your event planning:
We know it's hard to keep spirits up and remain hopeful when it feels like there's been nothing but bad news for months, but you don't need to face it all alone. We're here for you. Remember, this challenging time will pass and we can't wait to see you at your event next year!