How to Please Customers in the Digital Age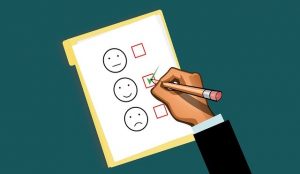 In the Digital Age, when many people prefer to do business online, does customer service really matter anymore? We're here to tell you that not only is customer service still important, but it may be the most important aspect of your business.
We understand that some people want a seamless, human-free experience, which is why we offer instant online quotes and even allow customers to purchase their rain insurance coverage online. BUT we also understand that, when it comes to securing your business, you're going to have questions and concerns that only a human can address. That's why we make every effort to meet with our customers face to face by attending dozens of conferences and conventions each year.
Additionally, we want our clients to feel comfortable contacting us for help and that's much easier to do when we've established a friendly relationship through top-notch customer service. We also think our clients feel more comfortable working with us when they've met us in person. It's hard to trust a company that hides behind a computer – and trust is important when it comes to insurance. Should something go wrong, wouldn't you feel better contacting a friend for help? Meeting clients in person helps us build trusting and lasting relationships. If one of our clients needs to file a claim, they know all they need to do is reach out to us and it's taken care of.
If you need even more convincing that you should prioritize customer service, it's a sound financial decision. Good customer service is the key to customer loyalty. And customer retention is cheaper than customer acquisition. When customers are happy with the service you provide, they'll continue to use your services. That's why a 5 percent increase in customer retention can equate to an increase in profit of at least 25 percent.1
We also know it's important for our clients to provide great service to their customers, which is why we help them choose weather and event insurance coverage that will help them provide the best experience to their customers. Because, in the Digital Age, customers are not shy about sharing when they've had an unpleasant experience.
Simply put, providing good customer service is just good business. To experience top-notch customer service first hand, give us a call, shoot us an email or chat with us at an event. We're here to help you provide the best experience for your customers!
1 HubSpot