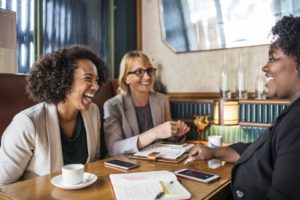 If there's one thing we have learned is key to the success of our clients, and ultimately our success, is listening. It's not just about hearing what our clients have to say, but actively listening to them.
Sales reps are often too busy talking to listen. Even if they are tuned in to what a customer or potential customer, they're often just listening for a specific cue or challenge that gives them a jumping off point to pitch their product or service. Unlike an insurance sales agent, who is under pressure to sell a set product, we have the advantage in that we're an independent insurance broker, so we're not tied to any one provider and can offer you a wide range of customizable solutions to fit your specific needs and budget.
We take great pride in learning about our clients' businesses. One way we do this is by getting involved in the industries in which our clients work, which not only gives us an opportunity to engage with our clients at industry events, but also gives us perspective and insight into the challenges they face so that we can provide better solutions.
Another way we get to know our clients is simply by listening. Whether on the phone or face-to-face at a conference or convention, we take the time to get to know each and every client by actively listening to them. This has paid off for both us and our clients on countless occasions. For example, based on what our client tells us, we may suggest options other than the traditional 6 p.m. to 10 p.m., 0.25" rain coverage.
Listening to our clients' needs has led us to develop stepped rain coverage for this specific purpose. Like traditional rain insurance, stepped coverage helps protect against weather conditions that reduce revenue lost due to reduced attendance, concessions and parking. However, unlike traditional rain insurance coverage, stepped coverage allows you to choose up to three rainfall threshold options, each with is own insured amount. Therefore, the greater the rainfall, the greater the claim.
Stepped coverage ensures your claim payment schedule better reflects the impact rainfall will have on your event. You're also less likely to just miss a claim payment for rainfall slightly under a single threshold like with traditional coverage. Not to mention, you could save premium dollars.
Listening to our clients also led to the development of specialized coverage for tractor pulls and dirt track events, which helps protect against excessive daytime rainfall that renders a track unusable for the event, as well as evening rainfall that impacts revenue due to reduced attendance.
Unlike traditional rain insurance coverage, this coverage allows you to choose two separate coverage periods, each with its own rainfall threshold. Therefore, a claim could be paid for rain that disrupts either the event or the track preparation. This also prevents you from needing to
insure one long period covering track prep and event hours and you won't over-insure your event by placing two policies–each with a limit equal to the full financial exposure–thus saving you premium dollars.
Had we not listened to our clients' thoughts on the challenges they face and their frustrations with traditional rain insurance coverage, we would not have known about the opportunity to create these specialized types of coverage. Do you have a specific need that the current weather insurance market isn't satisfying? Give us a call or shoot us an email; we'd love to listen to what you have to say and see if we can help!