Climate change is contributing to more extreme weather events, including extreme heat. While it may look like a pleasant day, extreme heat is extremely dangerous. According to the National Center for Environmental Health, extreme heat causes more than 600 deaths per year, more than hurricanes, flooding, lightning and tornadoes combined.
To help protect organizers from reduced attendance due to stifling heat and humidity—or in worst-case scenarios, to allow them to cancel outdoor events rather than putting attendees and vendors at risk in extreme heat—Spectrum Weather Insurance now offers heat index insurance coverage for outdoor events. The heat index, sometimes referred to as the "feels like" temperature or other monikers, is an indicator of how hot it feels to a person when relative humidity is factored into the air temperature. You can use the chart below from the National Weather Service (NWS) to get an idea of how temperature and humidity affect the heat index.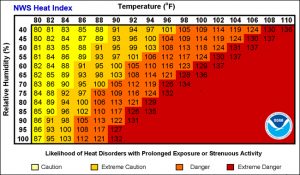 In summer and warmer climates, event organizers should keep a close eye on the heat index during their event as it can have detrimental effects on the health of attendees, and therefore the success of the event. Using the chart from the NWS below, you'll see a heat index of just 90°F can cause heat stroke or heat exhaustion with prolonged exposure or physical activity, like one might experience at an all-day music festival. Those that are most susceptible are young children and older adults. While a heat index of 90°F won't usually warrant a cancellation, it will impact the attendance numbers. To deal with the potential medical effects of extremely high heat index values, event organizers should also take precautions to help keep people cool. This includes water stations, plenty of shade or cooling areas with fans, as well as adequate medical tents.

Could extreme heat impact your upcoming event? Take the necessary precautions to protect yourself and attendees and invest in heat index insurance. Contact us today to learn more and get a custom quote for your event!