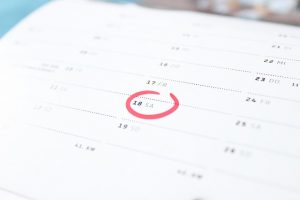 One of the most important features of an event cancellation policy is that it begins as soon as the policy is bound. While you may purchase coverage as late as 10 days before your event, we recommend getting coverage at least 90 days prior to an outdoor event. If you're really on top of it, you can purchase coverage up to one year in advance.
Telling a client their event cancellation isn't covered because they sought coverage too late is not something we like to do. Unfortunately, it's an all too common conversation. Below are some examples of how not placing coverage early has ended in coverage not being available.
A music festival organizer had a two-day music festival to be held on the riverfront of the Mississippi River. The client received quotes for the cancellation insurance a full seven weeks prior to their scheduled event. Two and a half weeks prior to the festival, we were asked to bind their coverage. There was just one problem: at that time, the Mississippi River was eight feet over flood stage and the festival grounds were under three feet of water. Because the flooded venue was a known pre-existing condition, the coverage was no longer available. The event ended up being moved to a location several miles from the river. If they would have purchased coverage weeks prior, when the river was at a normal level, the policy would have covered the costs associated with moving the event.
A county fair in Ohio had purchased event cancellation insurance on several occasions and intended to do so again this year. However, because of the copious amount of rainfall this spring, the fairgrounds had become saturated and waterlogged. Because of this known pre-existing condition, and the relative light amount of rainfall that would cause the already saturated grounds to become unusable, they were unable to secure coverage when requested, a mere three weeks before their event. If they would have purchased much earlier in the year, their coverage would have been in place to respond to muddy conditions that impede event setup.
A beachfront music festival on the east coast applied for coverage and received quotes two months in advance. On the day they decided to purchase coverage, a tropical storm had formed in the Atlantic. At the time of binding the coverage, any cancellation or disruption of the event due to that tropical storm was excluded from the policy. Luckily, the storm ended up not affecting the event. But if it had, no coverage would have been available.
A county fair in the Midwest sustained damage to its grandstand and other facilities during a storm. If they had cancellation insurance in place for their grandstand events, or even the entire fair, all revenue losses due to the cancellation would have been paid by the insurance carrier.
As you can see, it's important to purchase your event cancellation insurance as soon as you are able to do so. The cost is the same whether you purchase two weeks or two months prior. By purchasing earlier, you extend your coverage to include any occurrence that may happen several weeks before the event. Unfortunately, severe weather happens. Fires happen. Flooding happens. Be prepared for anything by getting your event covered ahead of time rather than waiting until it is too late.
Click here to learn more about event cancellation insurance and what it covers.