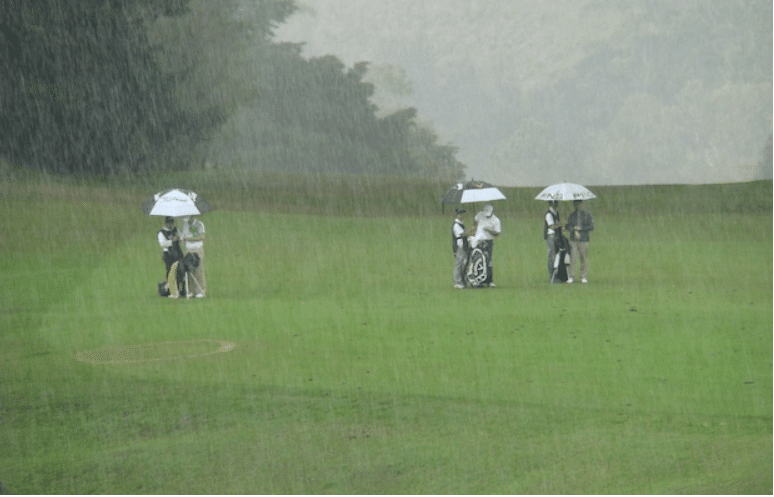 Like many events that take place outdoors, inclement weather can ruin and even cancel a golf tournament. However, golf tournaments have their own set of weather issues regarding the type and timing of weather events. To address these issues, there are a variety of customizable insurance policies available to those planning golf tournaments:
Event Cancellation Insurance
Adverse weather may merely make tournament play less enjoyable, or it can interrupt play for a matter of hours, a full day, or could even force the cancellation of an entire multi-day tournament. Severe thunderstorms, lightning, high winds, tropical storms and hurricanes, blowing sand and dust, fog, and even snow have all forced a postponement or cancelation of golf tournaments, from those at the highest professional levels to local events for chambers of commerce and charitable events.
Event cancellation insurance addresses all these concerns and responds to situations that impede the ability to play, which may or may not require you to cancel all or a portion of a tournament. There are two major advantages to event cancellation insurance. Firstly, not only does it respond to a wide variety of weather perils, but it also covers non-weather perils, such as wildfires, smoke, power outages and other disruptive causes. Secondly, you are not tied to a specific set of hours. This is especially important in regard to tropical storms and hurricanes, which could damage the course prior to your tournament, or cause an evacuation order on the day of your scheduled tournament for an impending storm.
Adverse Weather Insurance
If your primary concern is weather prior to or during your tournament, then an adverse weather insurance policy may be a better fit for you. This type of policy covers adverse weather that occurs in the hours leading up to or during your tournament. Adverse weather includes weather that makes the course unplayable, such as overnight severe weather that downs trees, fills bunkers or water-logs greens. It also covers weather that creates unsafe playing conditions on the course, such as lightning.
Rain Insurance
While rain can certainly make for an uncomfortable tournament, it does not typically "rain-out" a tournament. However, if rain is your primary concern, you do not need to confine yourself by choosing a rain insurance policy with a single rainfall threshold that must be exceeded in order to receive a claim. There are other, more liberal options available, none of which require the use of a rainfall that is averaged over a five- square mile grid, but instead responds to rainfall that actually occurs at the course.
Regardless of your coverage needs, there is an insurance policy to help ensure if Mother Nature does not cooperate, you will not find yourself in a financial pinch. Much like having a full set of clubs in your bag, you need to make sure that you are working with a weather insurance broker that has a full suite of coverage options available to address your needs. Otherwise, it's like playing a round with only a 7-iron.  Sure, you can do it, but why would you?